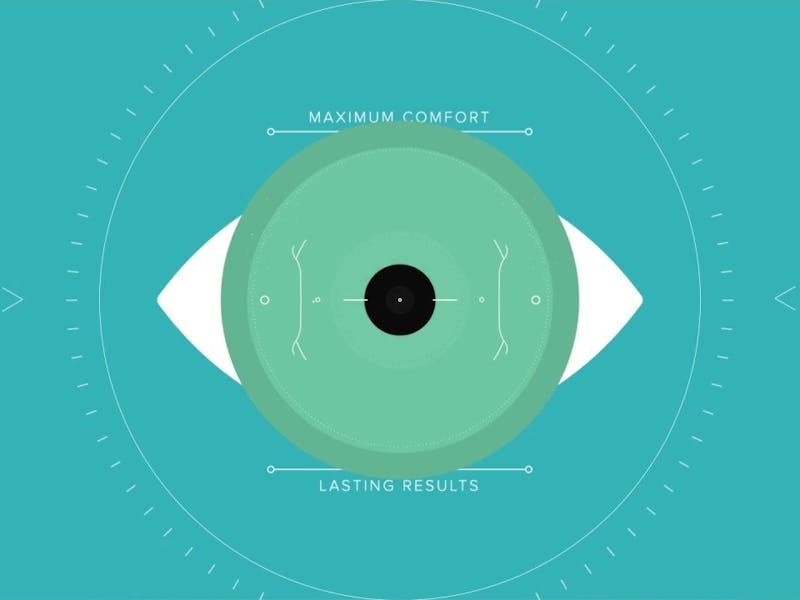 There are several vision correction procedures available. At Kelly Vision Center, Dr. Kelly helps patients evaluate the benefits of LASIK and Visian ICL procedures to see which surgery best meets their vision goals.
For any vision correction procedure, ideal candidates are adults between the ages of 18 and 40 with stable vision for one year prior to surgery. Both LASIK and Visian ICL surgery can be an effective solution for people hoping to reduce or eliminate their need for glasses or contact lenses. Both procedures are performed in-office with minor discomfort, and patients are seeing clearly within 24-48 hours after surgery.
LASIK is the acronym for Laser-Assisted in-Situ Keratomileusis. It corrects vision of people who are nearsighted, farsighted or have astigmatism. LASIK permanently changes the shape of the cornea so that light focuses more clearly on the retina. This allows you to see more clearly, without the need for glasses or contact lenses.
For patients who are not candidates for LASIK due to thin corneas, dry eyes and high refractive error can experience vision correction with the Visian Implantable Collamer Lens. The implantable lenses are made out of the biocompatible materials collagen and polymer. It is commonly called ICL, the implantable contact lens, the C officially stands for Collamer. They were approved by the FDA back in 2004. They are able to treat myopia or high levels of nearsightedness.
When light enters the nearsighted eye, it does not reach the retina because the cornea bends the light too much. This results in the images being blurry. Any type of vision correction is required to see clearly. The ICL focuses the light entering the eye on the retina so that the brain receives a clear image.
During ICL surgery, Dr. Kelly creates tiny micro- incisions near the cornea to insert the implantable contact lens behind the colored part of the eye, known as the iris. The lenses are completely invisible once implanted and patients do not feel them. The ICL procedure is completely reversible and offers additional UV protection for the eyes. This prevents dry eye syndrome as it works naturally with the body. As a removable option, your prescription can be updated if necessary.
The fundamental differences between the LASIK and Visian ICL:
Visian ICL has to be removed by the age of 40.
ICL's are cannot correct astigmatism the way LASIK can.
ICL is typically more expensive than LASIK surgery.
ICL surgery is riskier than LASIK.
A post-operative appointment is scheduled a day after either surgery. You will have your eyes examined and test your vision refraction. It is recommend to limit your activity and take a few days off from work so that you can fully recover before you return to your normal, but clearer, life.
Both LASIK and ICL are successful in offering patients freedom from glasses and contacts. Kelly Vision Center is dedicated to providing you with excellence in eye care. Schedule a vision correction consultation with Dr. Kelly to see what vision solution is right for you!