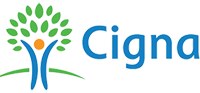 Cigna Medical Insurance
Cigna was one of the first mega-insurance companies formed by mergers in the 1980s when Connecticut General Life Insurance, founded in 1865, merged with the Insurance Company of North America, founded in 1792 as the first marine insurance company in the US. Cigna offers many different insurance plans, so coverage varies, but in general, the following eye care procedures are considered medically necessary and fully covered:
Macular degeneration treatment
Retinal detachment treatment
Cataract Surgery
Cigna health care covers cataract surgery with required diagnostic and treatment procedures. It does not, however, cover the use of premium intraocular lenses, including toric IOLs, ReSTOR, and Tecnis.
LASIK
LASIK can also be paid for using money from a flexible spending account (FSA) available through your employer or a health savings account (HSA) associated with a Cigna insurance plan. To learn more about the specific coverage of your insurance plan, please contact Kelly Vision Center today to talk to our insurance coordinator. We have locations in Manhattan and Long Island.