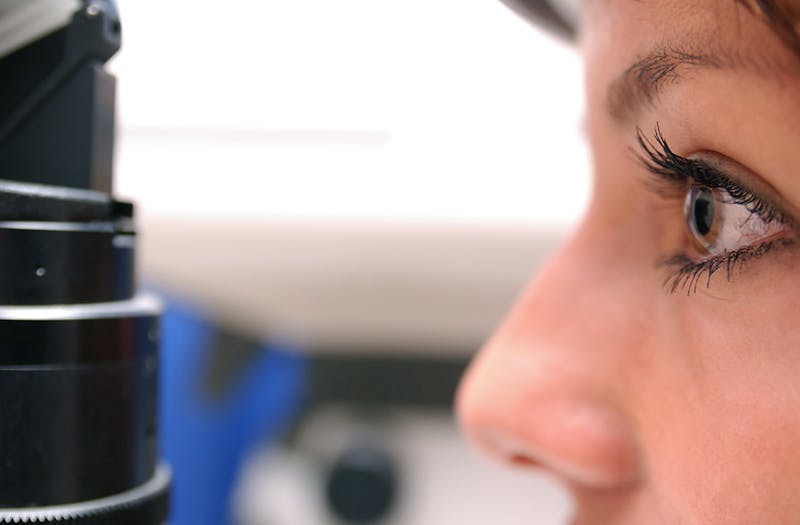 "The eyes are the windows to the soul" is a well-known metaphor, but did you know that the eyes are quite literally a window into a person's overall health? People that do not wear glasses or contacts do not always think that a visit to the eye doctor is necessary.
Vision screenings are not comprehensive eye exams. Screenings are visual acuity tests where you're asked to identify the smallest letters you can on a vision chart across the room. Complete eye exams can help identify some chronic conditions and help with early diagnosis so patients can start treatment sooner and better manage their disease.
There are a number of conditions that begin painlessly, which is why preventative care is so important. The eyes can reveal the silent damage wrought by high blood pressure and diabetes and reflect the risk of a future stroke or heart attack.
Don't take any chances with your vision or your health! Here are four conditions that Dr. Kelly and his team will be able to spot at your yearly eye exam:
Diabetes
Patients with diabetes both Types 1 and 2 are more likely to have glaucoma, cataracts, and other eye diseases. Diabetes directly affects the small blood vessels in your eyes. If left untreated, the blood vessels in the eyes can become closed off and restrict the blood flow completely. This is a condition called diabetic retinopathy that causes vision-threatening damage to the retina and is the leading cause of blindness. When detected early, lifestyle changes such as eating healthier and losing weight can help prevent further damage.
Arthritis
Joint pain and inflammation are probably the main symptoms you think of when it comes to arthritis. It can cause inflammation in other parts of the body, including your eyes. Symptoms may include dry eye, redness, blurred vision, sensitivity to light, cloudy vision or poor night vision. This inflammation can easily be spotted in routine check-ups.
High cholesterol or High Blood Pressure
If the pigmentation of your eyes suddenly changes this can indicate high cholesterol. A look at the back of the eye reveals if the delicate blood vessels have thickened, narrowed or burst. There are links between heart disease and narrowing of small blood vessels in the retina.
Thyroid disease
If your eyes suddenly look different or appear to be bulging this can be a vision-threatening sign of thyroid disease. Other symptoms can include foreign body sensation, redness, tearing, eyelid fullness or swelling. It can also cause a gritty feeling in your eyes and make you extra sensitive to bright lights. The exam can determine the phase that the disease is in. The emphasis of treatment is to decrease the inflammatory process and preserve vision.
An eye exam can honestly save your life! Don't wait to book your appointment. If you cannot remember the last time you visited Kelly Vision Center, it is time to come in! Let us look deeply into your eyes and keep you healthy.