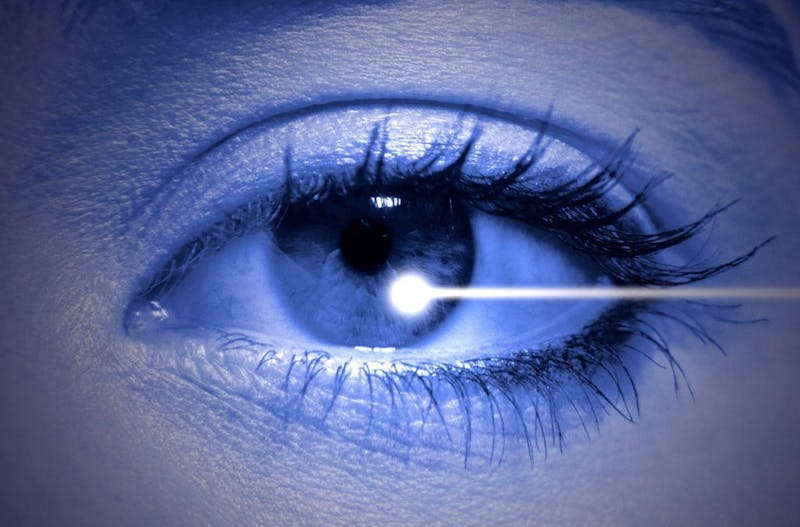 6 myths & facts about lasik eye surgery
We are going to open your eyes to LASIK eye surgery! LASIK is the acronym for Laser-Assisted in-Situ Keratomileusis. It is a popular surgery that corrects vision of people who are nearsighted, farsighted or have astigmatism. Dr. Kelly has been performing LASIK since 1996. He uses the most advanced laser technologies to correct your vision. The goal is to enjoy life without glasses or contact lenses.
The Internet is filled with information about LASIK. We're going to debunk all of the common myths with facts.
MYTH: LASIK is painful
FACT: LASIK eye surgery is painless. Anesthetic drops are used to numb the eye during the procedure which only takes about 15 minutes for both eyes. You might feel slight pressure during the formation of the corneal flap at the start of the procedure. Post-op patients describe discomfort such as a gritty sensation in the eye for a few hours. Most people, however, experience very little discomfort and require nothing more than an ibuprofen to relieve any irritation.
MYTH: LASIK causes blindness
FACT: There have been no confirmed cases of LASIK blinding anyone. LASIK only affects the front surface of the eye. Serious complications have occurred but are extremely rare. During the pre-operative consultation and exam, Dr. Kelly reviews all potential risks with the patient as well as determines whether they are a good LASIK candidate.
MYTH: LASIK doesn't last
FACT: Many LASIK patients worry they will need a second surgery called an enhancement. Research shows that less than 10% of LASIK treatments require re-treatment or enhancements.
MYTH: There is a specific age for LASIK
FACT: Laws require LASIK patients to be over 18 (or 21 for certain procedures), there is no other age requirement to have successful LASIK surgery. Ideal patients have stable prescriptions, or in other words, their vision hasn't changed in at least a year. Dr. Kelly will take precise measurements to determine if your corneal shape and size are right for LASIK. Prescriptions often stabilize when patients are in their twenties. This is what determines when a LASIK procedure is best, not the patient's age.
A similar myth is that you can be "too old" to have LASIK. The surgery has been successfully performed on patients over 60.
MYTH: The recovery period is long
FACT: Most patients are back to their daily routines within 24 hours. Dr. Kelly will suggest that you take it easy for two to three days after LASIK and will make a recommendation for recovery time based on your individual vision needs, healing and work environment.
MYTH: LASIK eye surgery is risky
FACT: As with any surgery, there are some risks, but when performed properly and with the right precautions, laser eye surgery is amazingly safe. Antibiotics are prescribed to prevent infections. The most common risk is transient dry eye. There is also a slight risk that your vision won't be fully corrected. LASIK does not correct the normal aging changes in the eyes. Glasses might still be needed for reading or driving at night.
Now that you know the facts, take our LASIK self-test and make your consultation appointment with Dr. Kelly!